Application Methods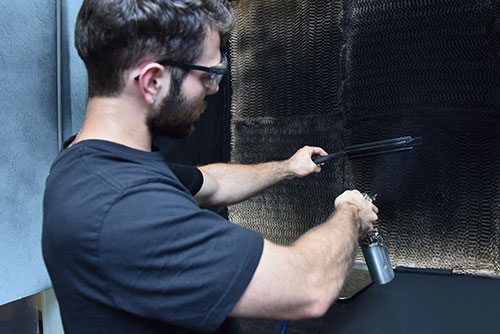 GBIE SLIP-COAT products can be applied either inline or offline. For inline application, the coating can be sprayed directly on extruded profiles on the extrusion line, even on high speed extrusion lines. Final assemblies, including moldings, can be coated offline in manual work stations or robotic cells. Many customers have stated an advantage of SLIP-COAT is its ability to adhere to itself, thereby allowing assemblies to be coated by a combination of inline coating of extrusions and offline coating of moldings.
SLIP-COAT can be cured using hot air ovens or high intensity infrared heaters. The choice depends on many factors, including: part complexity, how the assembly is being coated, part rate or line speed, space available on the production line, and currently used equipment.
GBIE is always happy to assist customers in optimizing production conditions to get the optimal application of SLIP-COAT. Trust us, we've seen it before. We can help to identify process weaknesses and prioritize them so you focus on the parameters most likely to cause problems.