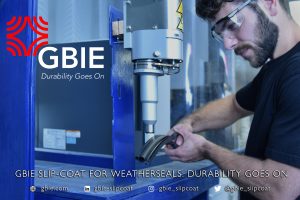 At GBIE we have a fully equipped R&D laboratory where our skilled technicians develop optimal SLIP-COAT abrasion resistant coating (ARC) solutions for a wide variety of flexible substrates that will exceed even the most challenging performance expectations.
Before we sell any coating, we offer R&D support at no cost so we can identify the best coating and crosslinker combination for the customer's seal. We start with a sample of the weatherseal and if our existing products are not exactly right for the material, then our R&D team will investigate whether a pre-treatment could help or will formulate a new coating that fulfils all requirements.
We are so confident that SLIP-COAT products offer outstanding coating performance compared to other commercially available automotive weatherstrip coatings that we will carry out a testing program to compare a customers' existing coatings with ours on the same seal! You are not required to identify the competitive product.
If you want to discuss our technical support services for our products then please contact us:
Tel: (519) 736-7344
Email: slip-coat@gbie.com
Please follow us on our LinkedIn page »