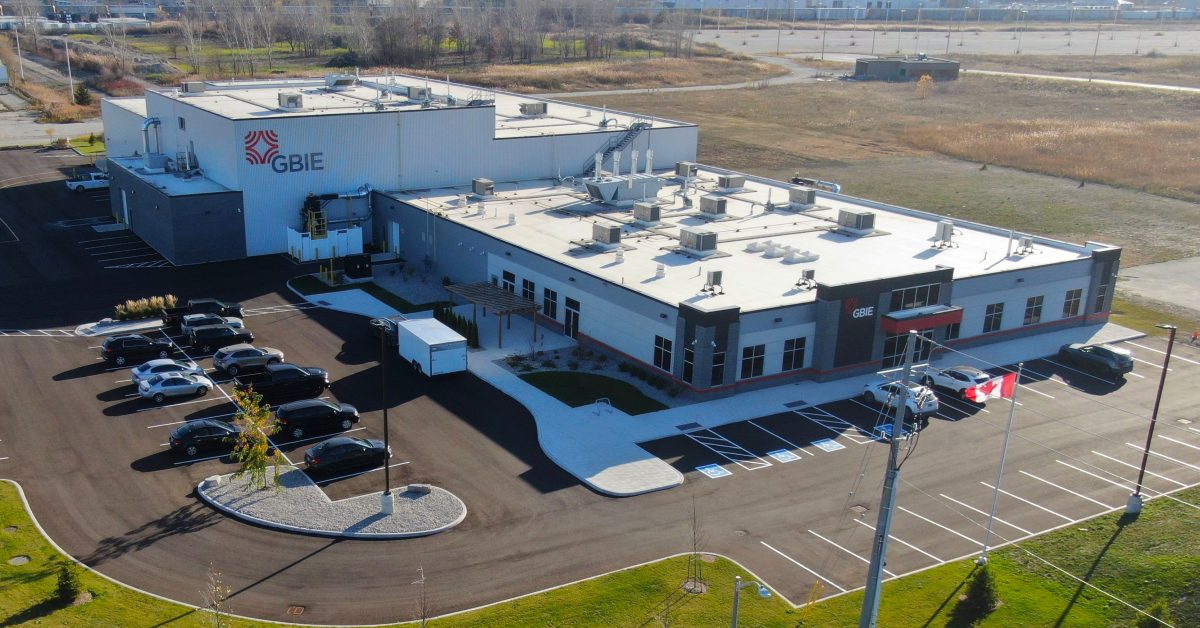 At GBIE, we firmly believe that quality is never an accident. It is always the result of high intention, effort, and skilful execution. Our commitment to quality is reflected in our investment in the development of our SLIP-COAT products for automotive weather seals over the past three decades. We use only quality raw materials and optimized production processes, combined with rigorous quality control procedures. The end result is optimal application, durability, and performance.
The significance of coating automotive weatherstrips is often underestimated, but the importance of superior coating solutions should never be overlooked. In this blog post, we explain the journey of our water-based, abrasion-resistant coatings (ARC) from our manufacturing facility to our customers. We'll also shed light on the processes our customers undertake to optimally coat their automotive weather seals using our SLIP-COAT products, known for their durability and superior adhesion across a diverse range of EPDM and TPE compounds that are used in the manufacturing of automotive weatherstrip sealing systems.
SLIP-COAT Products: The Two-Component System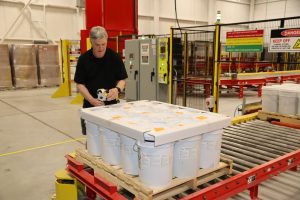 Our two-component system, comprising of Part A and a crosslinker, is designed to provide a tailor-made solution for each customer's specific elastomer-based compound. With over 20 Part A components and six distinct crosslinkers, we're confident in our ability to provide the ideal coating solution for any substrate. In unique situations where our existing formulations cannot provide an adequate solution, our R&D lab takes the initiative to develop a new coating – at no cost to the customer.
To ensure optimal performance, our SLIP-COAT products, with a shelf life of 24 months, are packaged in GBIE pails of various sizes depending on the customer's needs. During winter, these water-based products are transported under heated conditions to prevent freezing which could damage the liquid coating.
SLIP-COAT Preparation
Given that SLIP-COAT products are complex dispersions of solids and liquids, it's critical to thoroughly homogenize each container before use as separation will occur during storage with some components coming to the surface and others sedimenting to the bottom. All SLIP-COAT products are water-based, which means they will not adhere to surfaces contaminated with oil, grease, dust, or debris. Therefore, for offline applications where contamination may have occurred, a thorough substrate cleaning is critical, requiring removal of contaminants with a clean lint-free cloth saturated with methyl ethyl ketone (MEK) or naphtha, immediately before coating application.
Pretreatment before applying our coating to automotive weather seals can be effective, but it isn't always necessary. Some pretreatments can even reduce coating performance. Pretreatments add complexity and cost to the process, either through the capital cost of expensive plasma and corona systems or material costs for primers. Our R&D lab collaborates with our customers to determine whether pretreatment would be beneficial for optimal coating performance and adhesion of our SLIP-COAT products. If it doesn't add any benefit, we don't recommend it!
SLIP-COAT Mixing
Proper mixing of Part A and the crosslinker in the correct ratio is essential. The appropriate mixing process inside a GBIE pail involves using the correct dispersion blade and a suitably sized mixer, ensuring optimal homogenization of the liquid coating prior to application.
Application and Curing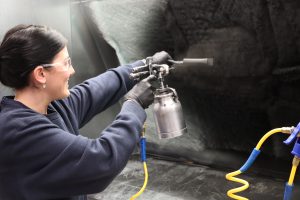 The application process must account for critical variables such as wet film build, solids content, substrate, and process cleanliness. Achieving the correct Dry Film Thickness (DFT) is critical, requiring adjustments to the quantity of coating applied.
Our products can be applied inline or offline. Inline application allows for the coating to be sprayed directly onto extruded profiles, even on high-speed extrusion lines. Offline processes, either manual or robotic, are used to coat assemblies of mouldings and multiple profiles. Many customers have praised the ability of SLIP-COAT to adhere to itself, allowing assemblies to be coated using a combination of inline coating of extrusions and offline coating of mouldings.
SLIP-COAT can be cured using hot air ovens or high-intensity infrared heaters. The choice depends on factors like part complexity, the assembly's coating method, part rate or line speed, space available on the production line, and the equipment currently in use. Curing is an essential step as it ensures that SLIP-COAT achieves the highest coating performance possible. A full cure develops in 24 hours, after which quality control measures can be implemented.
Ongoing Technical Support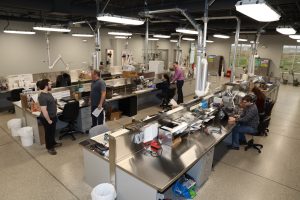 GBIE cares deeply about the coating performance that our customers achieve with our coatings. At the beginning of every new job, GBIE works with customers to ensure the optimal Part A and crosslinker are recommended for the customers' specific elastomer compound. This is done through extensive testing in GBIE's state of the art R&D lab at no cost to customers. This work results in a formal R&D lab report which is sent to the customer along with coated samples that can serve as benchmarks for the customer's process. GBIE provides valuable technical advice through these lab reports. Should customers run into problems in their process, GBIE is always there to assist, either in person, or with further no cost R&D lab services.
Conclusion
Our SLIP-COAT products are more than just coatings. They symbolize GBIE's unwavering commitment to quality, durability, and innovation. It is this commitment that has positioned us as a trusted partner in the automotive industry and will continue to drive our progress in the future at our state-of-the-art manufacturing and R&D facility in Windsor, Ontario, Canada. By maintaining rigorous quality control measures and continuous process improvements, we deliver products that consistently outperform, outlast, and withstand the test of time.
For more information about our exceptional range of SLIP-COAT products, visit us at gbie.com and make sure you follow our socials!
Please follow us on our LinkedIn page »