We recently said goodbye to our fantastic Co-op students, Julia Suljak and James Kay.  They've been working as junior R&D Technicians our R&D lab for the last four months, gaining valuable industry experience.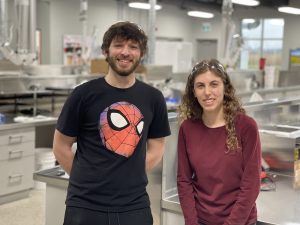 Both are from the University of Waterloo, Julia is pursuing her BASc in Chemical Engineering, and James is working towards a BSc in Chemistry.  In addition to their lab work, both did topical independent studies and gave fantastic presentations on the topics they chose: Julia discussed renewably sourced polyurethanes. One take home was that as the world decreases consumption of oil for fuel, the proportion of crude oil components used for the non-fuel chemical industry will likely also decrease which will influence price and availability, thereby increasing the need for chemicals from non-crude oil feedstocks. James explored the use of nano particles for coatings and adhesives which can be cured very efficiently using induction which could bring substantial energy and carbon emission savings to users of such products. Both topics show the need for continued innovation in the raw materials industries to improve society, increase efficiency, bring new possibilities, and reduce cost and emissions.
We're grateful to have had two excellent students who learned quickly allowing them to work on some complicated projects in our fascinating world of coatings and rubber. Both made valuable contributions in the development of new products that will help our customers.  It's been a pleasure having them on our team, and we wish them the best in their academic journey. Who knows, perhaps a future in the coatings or polymer world awaits them!
We just started our next University of Waterloo Co-op student on a project that will increase our R&D testing capacity and shortly, we will be recruiting another University of Waterloo Co-op student to work in our R&D lab for the winter term 2024 or for an 8-month term encompassing both the winter and spring terms of 2024.
Please follow us on our LinkedIn page »